July 2019
Does the heat have you beat? Get through the dog days of summer with awesome products from our July PV promotion! Whether you're chilling at the pool or camping with the family, we have what you need to stay cool—and keep your cool. Jump-start those long, hot days with a simple swipe of Valor® Roll-On and then enhance everything from lemonades to marinades with the refreshing taste of Lemon Vitality™ or Lavender Vitality. Also included in this month's offering is an exclusive Young Living mason jar mug and reusable stainless steel straw, so you can sip sustainably wherever your summer adventures take you.
Discover more summer must-haves!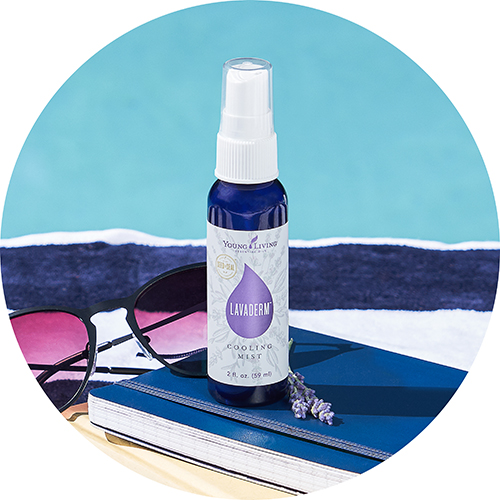 100PV
Bonus Essential Rewards exclusive: Grapefruit Lip Balm
• Help sunny smiles go the extra mile. Nourish your lips with our Grapefruit- and antioxidant-infused lip balm.
• Pucker up! Keep your kisses lush and soft with this delightfully sweet and tangy balm.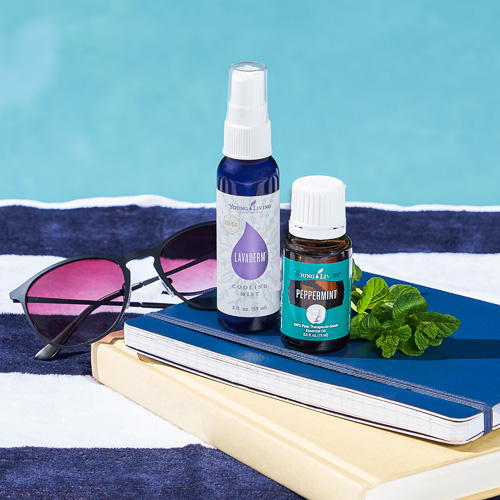 190PV
15 ml Peppermint essential oil
Ignite like the sky on the Fourth of July. Diffuse Peppermint oil in your home to spark the senses and get motivated to tackle your summer to-do list.
• Relax and rejuvenate. Apply this popular oil to your sore muscles after chasing the kids through sprinklers or dab it onto your neck to feel instantly refreshed.
Bonus Essential Rewards exclusive: LavaDerm Cooling Mist
• Don't sweat the small stuff. Spritz this heaven-scent mix of Lavender and aloe vera whenever you need some cooling relief.
• Love your skin with LavaDerm Cooling Mist. Infused with aloe, Lavender, Northern Lights Black Spruce, and Helichrysum, this rejuvenating spray calms and moisturizes sun-kissed skin.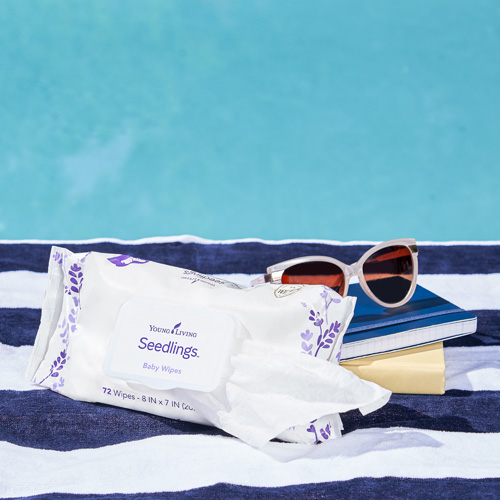 250PV
• Soothe with Lavender, soften with aloe. Seedlings Wipes are gentle on your baby's skin but strong enough to handle the day's messes.
• Beach be gone. Effortlessly remove sand, sunscreen, and saltwater from fingers and toes with these refreshing wipes.
300PV
• Start your day the right way. Add a drop or two to a glass of water for an invigorating citrus flavor as you go from groggy to go-getter.*
• Cook with a twist. Refresh old recipes with Lemon Vitality for a bright burst of flavor in marinades, vinaigrettes, baked goods, and more.
• Get your zzz's. Encourage a good night's sleep by adding a drop or two of Lavender Vitality to your bedtime glass of water.*
• Meet your new secret ingredient. From sweet Lavender lemonades to savory marinades, you'll find dozens of uses for Lavender Vitality in the kitchen.
Mason Jar Mug with Stainless Steel Straw
• Save the sea turtles. Bring our mason jar mug and stainless steel straw with you to restaurants, the office, and anywhere else you'd ordinarily use plastic to help keep the oceans safer for wildlife.
• Pass on plastic. Embrace a greener lifestyle with one simple swap from landfill-bound plastic to our
reusable glass and stainless steel straw.
400PV
10 ml Valor® Roll-On
• Stay strong with Valor Roll-On. Apply Valor Roll-On and enjoy the empowering aroma while you tackle every item on your summer to-do list.
• Swipe for confidence. Wear Valor as your signature fragrance for a bold scent that inspires on-thego courage.
**These statements have not been evaluated by the Food and Drug Administration. This product is not intended to diagnose, treat, cure, or prevent any disease.